The top-rated burger bar with ethics at its heart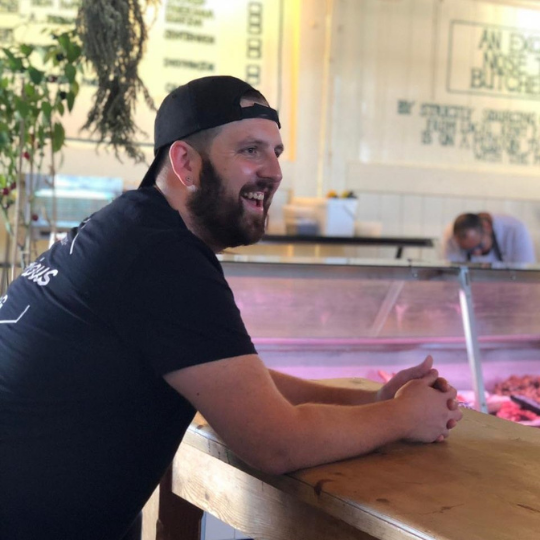 "We've just been voted No.1 restaurant and takeaway on TripAdvisor; to be able to bring that back to my hometown of Maidstone is just awesome."
Having gained his early hospitality experience working in nightclub events and operations, the imminent arrival of Jonny Wall's daughter spurred him on to move to an industry more conducive to family life. In September 2019, he and business partner Kashi Francis decided to move into catering. They took on a property in Jonny's university town of Canterbury, and opened Notorious B.R.G., aiming to offer restaurant-quality food in a takeaway environment with an East Coast American vibe.
Featuring delicious beef and chicken burger options, amazing sides such as crispy duck or cheesy bacon fries, and a variety of "The Mac" macaroni cheese dishes, sustainable, local ingredients were important from the start, as Jonny explains, "All our meat is Red Tractor assured or free range and comes from local farmers' markets." What's more, the shop is powered by renewable hydro and wind energy and uses only compostable consumables.
This eco-conscious approach soon saw the pair branch out into offering a plant-based version of their menu, something Jonny takes great pride in, "Too often, vegan menus rely on the same old dishes like mushroom risottos but with so many amazing alternatives available, there is no excuse not to offer something good.
"So our menu is what I like to describe as ambidextrous; our vegan options are exactly the same as our meat ones, except they're entirely plant-based."
Popularity soon soared and with the pandemic arriving just a few months after opening, Notorious B.R.G. proved a lifeline for locals during lockdown, who recently voted it 'Best takeaway and restaurant in Canterbury.'
"Our customers told us that we helped to keep them going during the restrictions. We are so grateful and humbled by the support we got, at a time when we know other businesses suffered so much."
Knowing they'd hit on a winning formula, the team set their eyes on expansion. Having grown up in Maidstone and seen how the town was thriving, it was a natural choice for Jonny. When an ex-colleague mentioned the new food hall at Lockmeadow, it seemed the perfect location. Jonny wasted no time arranging a meeting with Alexa Kersting-Woods, who manages the project, and got a good feeling straight away, as he explains,
"Alexa is one of the warmest people and so accommodating. She's on board with what we're doing and shares our aspirations. We feel welcomed and valued as a tenant and partner. From the start,  everything just seemed to slot together perfectly; the timeframe, costings and especially the focus on local, independent businesses, that was really important."
Plans for Notorious B.R.G. at Lockmeadow include providing an identical menu to its original site, with the same focus on a strong plant-based offering.
As well as the restaurant's eco-friendly credentials, it's Jonny and Kashi's plans for leading reform in the catering world that really helps to set the business apart. Pay, working conditions and employee relationships are areas they feel need improving in the industry. Seeing how hard their team work, particularly during the pandemic, made them determined to focus even more on staff wellbeing. Their first step was to introduce a shorter working week, as Jonny explains,
"Someone has to start making a change. No one waits until they've got 50 restaurants and then changes how they operate: it has to be executed from the beginning.
"So we've introduced a four day working week with no reduction in pay for our Canterbury team and we'll be offering the same in Maidstone. It's really important to us to stick to our morals which is why our expansion will be strong and steady, without the need to exploit employees."
This passion for improving the industry is another reason why Jonny is so enthusiastic about working alongside his fellow tenants at LoveFood@Lockmeadow.
"The community at the food hall is so willing to help each other," he says, "We've done this before and have a wealth of experience, including mistakes and victories, so sharing our knowledge with other fledgling businesses feels like the right thing to do.
"We're looking forward to being taught a few lessons ourselves!"
And although creating a 'triangle' of sites with a third opening in Kent is on the cards for the future, Lockmeadow is definitely the focus for now, as Jonny says, "I couldn't be more thrilled to be coming back to Maidstone."