The family team brewing an award-winning business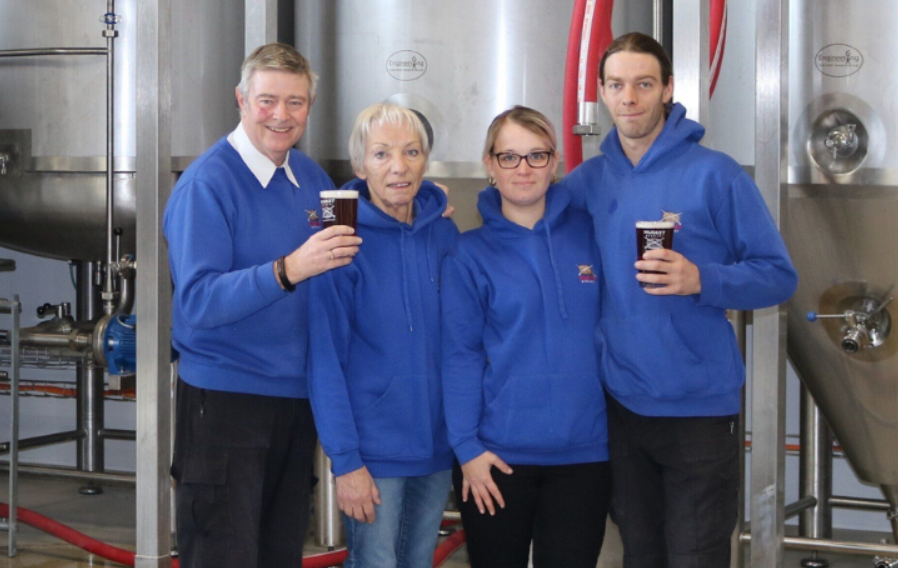 "Loddington Farm is a beautiful location for the brewery and it's become a wonderful community hub that the locals consider their own."
When redundancy and a health scare prompted Linda's husband, Tony Williams, to look for a new challenge following a successful career in journalism, she suggested starting a microbrewery.
"Tony had always been a home brewer so it seemed a great idea for him to develop his hobby," she explains. "He hunted around and found a disused mushroom shed on Loddington Farm in Boughton Monchelsea. It was full of rubbish but Tony cleaned it up and bought a small five barrel brewery which became Musket Brewery."
Sharing his dad's passion for beer, son Rhys soon got involved and though initially the pair simply enjoyed the father-son time spent together, it soon became clear that there was potential for this to become a serious business. As the duo honed their recipes, word spread about their fantastic quality beers. Unable to keep up with the demand for their products, a bigger brewery was on the cards. Tony and Rhys approached their landlord who agreed to clear a derelict building on the site and construct another agricultural building, four times the size of their existing premises. However a bigger building also required bigger, more expensive kit.
It was at this point that Linda began to get involved in the business too. Having worked for many years in the probation service, her experience in securing European funding was invaluable.
"I was supposed to be retired but I knew I could help Tony and Rhys secure funding that would really help build the business," Linda says. "I was aware that due to the location of the brewery, we were eligible for ERDF Rural Development LEADER Programme funding. We had to jump through a lot of hoops but the team at Kent County Council were brilliant and so helpful in getting us through the process. We ended up getting a 60% grant towards the kit."
The extra space allowed the brewery to expand its offering and in 2018, thanks to a further LEADER grant which went towards building toilets and a kitchen, the team opened their tap room, The Armoury. Serving not only their own beers but also wines, soft drinks, and pizzas, the site can accommodate approximately 100 people and is hugely popular with regulars including families, groups, residents, dog walkers and farmers.
The summer lockdown in 2020 was, however, a scary time, "All the pubs closed so, suddenly, all of our customer base was gone," Linda says. "At that stage,  we could only offer takeaway 5 litre mini kegs. They were really popular as lots of people were having barbecues because they couldn't meet indoors. We were also selling them to garden centres and farm shops.  When we were allowed to welcome customers back but only outside, we used a government Covid grant to install a large stretch tent on the green space in front of The Armoury to comply with the regulations."
They soon realised that bottling was an essential next step so in that same year, they found a bottling plant in Hampshire to take care of the process. It's a relatively large expense, but worth it as it has allowed the brewery to have an ecommerce arm meaning Musket Brewery bottles are now sent all over the UK.
The increased business called for a bigger team and in September 2020, the brewery employed a full time brewer.
"We took Scott on straight out of university," Linda explains, "He's a microbiologist with a particular interest in the brewing industry. And he's just brilliant – he does all the brewing and is very particular about quality control. It means Rhys can let him get on with that side of the business while he manages the online shop and technical side."
More staff soon joined, including four local students who work as bar staff in the tap room and brewing assistant, Sean, who was recruited via the Kickstart Scheme.
Although the team is growing and the business expanding, the brewery prides itself on the personal service it offers customers, "We can get a call from a pub on a Friday night to say they're running low and Tony will deliver it in person, even on weekends. And he always takes the time to engage with customers while he's there."
Using local suppliers wherever possible is also important to the business – Musket sources its hops from LupoFresh in Yalding and all of its graphic design has been done by Absolute Creative in Maidstone and marketing services are being developed by To The Moon Marketing based in Parkwood.  It has also teamed up with Maidstone mobile food suppliers, Kashmir Kitchen and Wanderlust to pitch up at the tap room on Wednesday and Friday evenings.
Support from KCC and Maidstone Borough Council (MBC) has, Linda says, been invaluable in getting the business to where it is today, "After getting help from the Kent & Medway Growth Hub, they then put us in touch with MBC to find out about further help through the Maidstone Business Boost programme who also allocated us financial support which was fantastic! Any businesses out there should definitely get in touch with KCC and MBC – they're probably not aware of just how much help is available to them."
With both Musket and Loddington Farm's owner focused on sustainability and conservation, the two are keen to look at environmentally friendly solutions that benefit both. So next on the list is to look at ways to combine a water waste function for the site. Also, with the rise in electricity bills, there are also plans to install solar panels that serve the farm and the brewery.
And after that?
"Eventually Tony and I will retire, hopefully to our cottage in France. Our son, Rhys, and the rest of the team are doing a great job and we know the business will continue to thrive in their hands."