The Business Terrace Business Advisor, Chris Lyle – One year on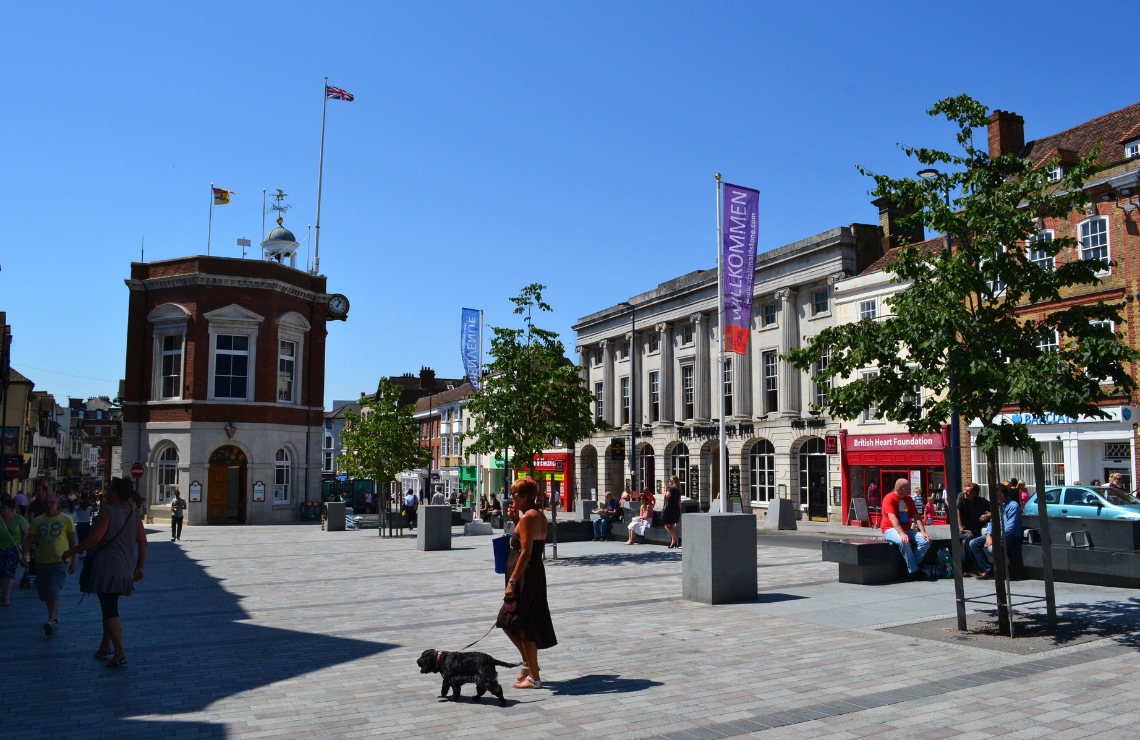 "One thing that stands out is that businesses here are very proud to be in Maidstone, especially as it's "the county town of Kent." I love to see products with the 'Produced in Kent' label; you really feel that sense of pride and are drawn into it."
It's been quite the year! How have you found your first 12 months with The Business Terrace?
It's certainly been interesting and adaptability has been key! I spent my first few months getting to know the local businesses and whilst all networking was on Zoom in the early days, I spent time introducing myself where I could. From late August, I helped with setting up the Maidstone Business Boost initiative to help local businesses post-pandemic. I learnt all about the various grants available, and it gave me a great opportunity to speak to a lot of local established businesses, not only about the grants but the additional support out there too. It's been really enjoyable and time has just flown by!
What types of businesses have you been working with?
A lot of the businesses I've met with have been those that have suffered due to the pandemic. Hospitality was obviously hit really hard so I've been helping many businesses in that sector. It's been a mixture of established businesses and those that started up during Covid.

As well as those that are recovering, I've also been talking to lots of people who have come up with an idea during lockdown, often following redundancy. Many of the pre start-ups and start-ups I've spoken to have taken a passion or hobby and turned it into a business idea. Or they've realised that they could work for themselves doing the job they did as an employee and have set up on their own.
Having originally worked in West Sussex, what have you noticed about the business environment in Maidstone?
It's really varied in Maidstone. When I take a phone call, it could be about absolutely anything! Particularly with start-ups; there are all kinds of ideas out there, and I never know what I'm going to be asked next, which is great. It means I have to think on my feet a lot!

One thing that stands out is that businesses here are very proud to be in Maidstone, especially as it's "the county town of Kent." I love to see products with the 'Produced in Kent' label; you really feel that sense of pride and are drawn into it. Businesses here also love the location, there's such great accessibility to the rest of Kent and the M25.
Are there common challenges that businesses here are facing?
As you'd expect, all businesses are still dealing with post-Covid issues, for all sorts of reasons, and are still coming to me for financial support. Not all businesses hit the criteria for a grant and so then the challenge is to find a way to help them that isn't financial. That can mean things like pivoting their business and that has worked really well for many.

I see my role very much as 'signposting' and I use my experience to have a deeper conversation with business owners to help uncover what kind of support would be really helpful. So even if I don't have the immediate solution, I can point them in the direction of someone who can make a real difference to them. It's about working together and understanding their needs.
What would be your message to Maidstone businesses?
Come to the council as your first port of call! There's a huge amount of support available; in fact, that's one of the biggest things I've learnt – just how much help is out there. But it can be hard to identify which programmes or schemes are relevant to you.

If you're about to make a change that involves cash flow/ further investment talk to me first in case there is a grant out there you don't know about that could help. Or there might be some free training or a workshop that could be really useful. We can help you easily work out what's right for you and put you in touch with the relevant contact. For example, when talking to businesses during the ARG grants period, we directed many to WSX Enterprise who provide support throughout the South East in areas such as finance and digital skills. We've had more and more businesses coming back to tell us how much success they've had with their workshops and at the moment we lead Kent with our referrals.

One thing I would say, is that you'll always get an honest response from me. If someone comes to me with a fantastic business idea but I think it has issues, I will tell them. But I like to think I bring practicality to their passion – I'll always do what I can to come up with solutions and suggestions to support their enthusiasm and help their idea to work.
What top tip would you give to businesses?
A year on, I'm still promoting the importance of having a business plan. It's so important, no matter what stage you're at. It's not just for the purpose of applying for finance, it should be a working tool that you constantly revise and refer back to.
How can businesses get in touch with you?
I'm available to any business in the borough on Tuesdays, Wednesdays and Thursdays. I'm very happy to meet face to face, either at The Business Terrace, where I'm based, or I can come to visit you in your premises. To really get the most out of our time together though, I'd suggest calling first. That way, I can get an understanding of what you need before we meet. It'll also allow you to gather any information together that might help me get a better overview of your business. Or you might find that a quick phone call is all we need and it'll save you a trip!