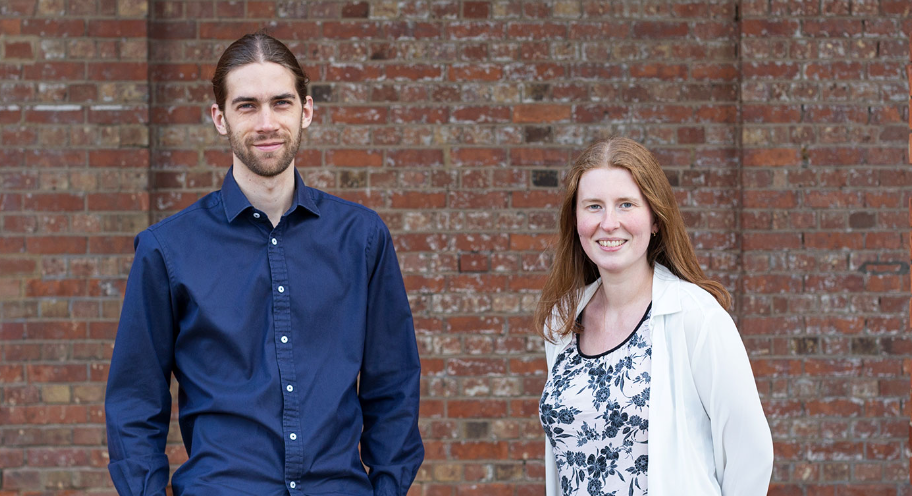 Husband and wife entrepreneurs, Chris & Liz Willmott, are enjoying the rapid growth of their internet technology business just 15 months after starting at home in Maidstone
Be confident with your decisions.
Get as much help as possible from other experts with accountancy and other practical tasks.
Seek good advice for the right things while sticking to your vision for the business.
---
Only six months into their new venture, they decided they needed to move out of their home office and took a starter office in The Business Terrace in September 2015: nine months on, Chris and Liz (one of Kent's 'Top 30 Under 30 Entrepreneurs'), needed to move again having taken on their first three staff to meet demand.
Their company, Pentascape Limited, offers specialist Internet design and technology expertise and consultancy, to companies of varying sizes. Current clients include a business in the automotive leasing sector, and an e-commerce business.
Chris said: "We are working with clients where digital is a fundamental part of their business model or marketing strategy. We have the ability to scale from something very simple, to enterprise grade internet systems. The unique selling point for us is that we build long-term relationships with clients."
Liz and her team look after the visible aspects of a digital experience, from the design and layout of a website or application, through to user psychology and decision-making journeys. Chris and his engineering team specialise in the technical delivery of this experience, and all the supporting components and which drive internet systems.
The pair met at Brunel University while studying for their Bachelor's degrees in Multimedia Technology and Design.  After graduating they both worked in the internet industry for 10 years. They were married in 2011, and had their son, Thomas, in 2013. In early 2015, they decided to set up their own business.
Keeping up with a rapidly changing world and taking advantage of new technologies is in Chris' blood. His grandparents Derek and Joyce Willmott were early pioneers in developing transistor radios.
"For us it was a combination between lifestyle choice and being able to be more in control of what we put our skill set to and what I knew we were capable of," said Chris.
"It's in our nature to be entrepreneurial and create our own future. It was a natural progression in both our careers to start being in control of what we were doing. It made more sense to work for ourselves. It was a leap of confidence – but it has been fun."
He added: "When you start a business, it's like a machine you are trying to get going – it's the first time you are setting up and it takes a lot of energy creating things. We now have so much forward momentum and velocity that we are being taken with it. The challenge is managing the direction of the business."
Their recent move to larger offices with capacity for up to 10 staff has presented the inevitable practical need of getting the internet set up and desks installed, while still keeping the business going. "The biggest challenge is the timing and logistics. It's like changing the wheels on a car when you are going along the motorway – you can't pull over."
More importantly, Chris says, there's the need to adapt. "It's a dynamic business and it's indefinite – that's the nature of the industry. You are constantly changing and adapting the digital components in response to the changes in the digital landscape."