How a 'planet-first' ethos is revolutionising business at BISON®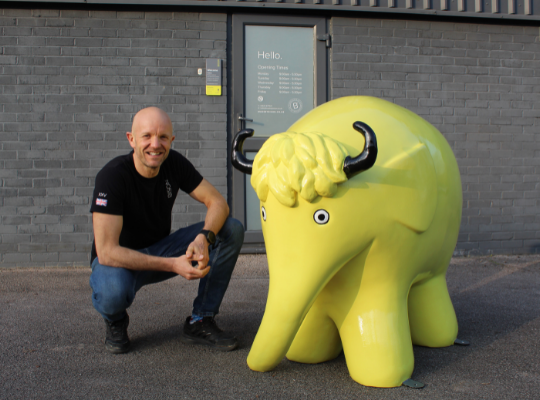 "The grant from LoCASE has helped us change to environmentally friendly energy, lighting and heating, and has had a huge impact on our carbon footprint– it's the gift that keeps on giving."
Established in 1976 by Mark's dad, Les Bidewell, and his business partner Lionel Robinson, BISON has never been slow to move with the times. Starting out as a pulp and paper business, BISON adapted over the years to add print management, stationery facilitators, and print and paper brokerage to its services and is today a bespoke printed graphic business.
So when faced with the adversity of 2020, Mark was unafraid to take the next step in the business's evolution.
"I'd spent three days at a sustainability forum, involving the likes of Nestlé, Formula One and Nandos and I learnt so much, I really got immersed in it," Mark explains, "It made me realise that BISON was missing its 'purpose.' I could see that in a big brand, it's harder to use your personal ethics to make that kind of change but in a smaller business, you can have a real impact."
Mark immediately started looking into ways to make the business greener and was introduced to the idea of 'insetting' – adjusting processes to minimise waste and emissions – by a student he met at a talk at Canterbury University.
"It made sense to me," he says, "Offsetting, by planting trees for example, is great but it's far better to change what you do internally to minimise your impact on the environment in the first place – essentially prevention vs cure."
It was a local solar power manufacturer that recommended Mark get in touch with LoCASE for potential help with adaptations to BISON's offices. The result was a grant which led to what Mark describes as 'an overhaul' of the business.
"We had 58 solar panels installed on the roof, meaning we're now 85% off grid and I'm able to run my electric car directly fuelled by the sun" Mark explains. "We also upgraded our heating and cooling system, which has reduced our carbon by 75%."
Work has also started on 'BISON Village' at the rear of the premises, which includes a nature area and outdoor living/working/work out area and even an allotment. Other projects followed – the business's team of nine is encouraged to use recycling as a last resort and instead, minimise waste as much as possible – it's resulted in all bins in the office being 'zero to landfill' What's more,  all materials used by the business are ethically sourced and never tested on animals.
BISON also received a grant to install two electric car chargers and Mark is encouraging his staff to switch to electric vehicles.
Another initiative staff took part in is Veganuary and it's one Mark is particularly proud of.
"Over 600,000 people signed up to Veganuary this year including over 83% of the BISON team and we even got clients and suppliers involved, so we're really proud to have been a part of it," he says. "In total, we saved over 500,000 litres of water. People don't realise but just one beefburger takes 2,400 litres of water to produce – it's really important that we all understand the numbers. It's made us all reconsider the food and products we consume and use."
Although the past couple of years have seen a lot of changes, BISON's 'planet first' pledge feels like a natural progression for the business.
"I feel like we've come full circle," Mark explains, "My dad and his partner originally named the business by blending their surnames (BIdewell and RobinSON). But a bison is a powerful herbivore and it's recently been in the news that the species is being reintroduced in Kent to help rewild a former pine forest – it makes our name seem all the more significant."
A proud Maidstone business owner, Mark is very pro protecting the high street in what he says is a 'great town that's becoming more cosmopolitan and lifestyle-based." As such, he's keen to share his advice and learnings to support other businesses in the area who are considering ways to be more sustainable.
"We are very passionate but we definitely don't want to be preachy – we just want to pay it forward and show you can still produce amazing work without adversely affecting the planet. Even if we can move people from a position of not being interested in the climate to just being curious, that's a great start," he says. "I'd say to anyone looking to be more sustainable to look at purpose-led brands and see what they're doing. Go to chats and seminars, collaborate. You don't have to be a hero, just start gathering information. Or come and speak to us! We want to inspire people and if they're not, it'll compel us to do better!"
Having come through the pandemic with a positive new direction and with dad Les, BISON's founder –  the "unsung hero and shining light of the business" – about to celebrate his 75th birthday, it feels like a landmark time for the business.
With their sights set on environmental awards and achieving net zero, as Mark says, "Who knows where we might be in five years' time?"