Funky Feast – the chef bringing first class flavour fusions to Lockmeadow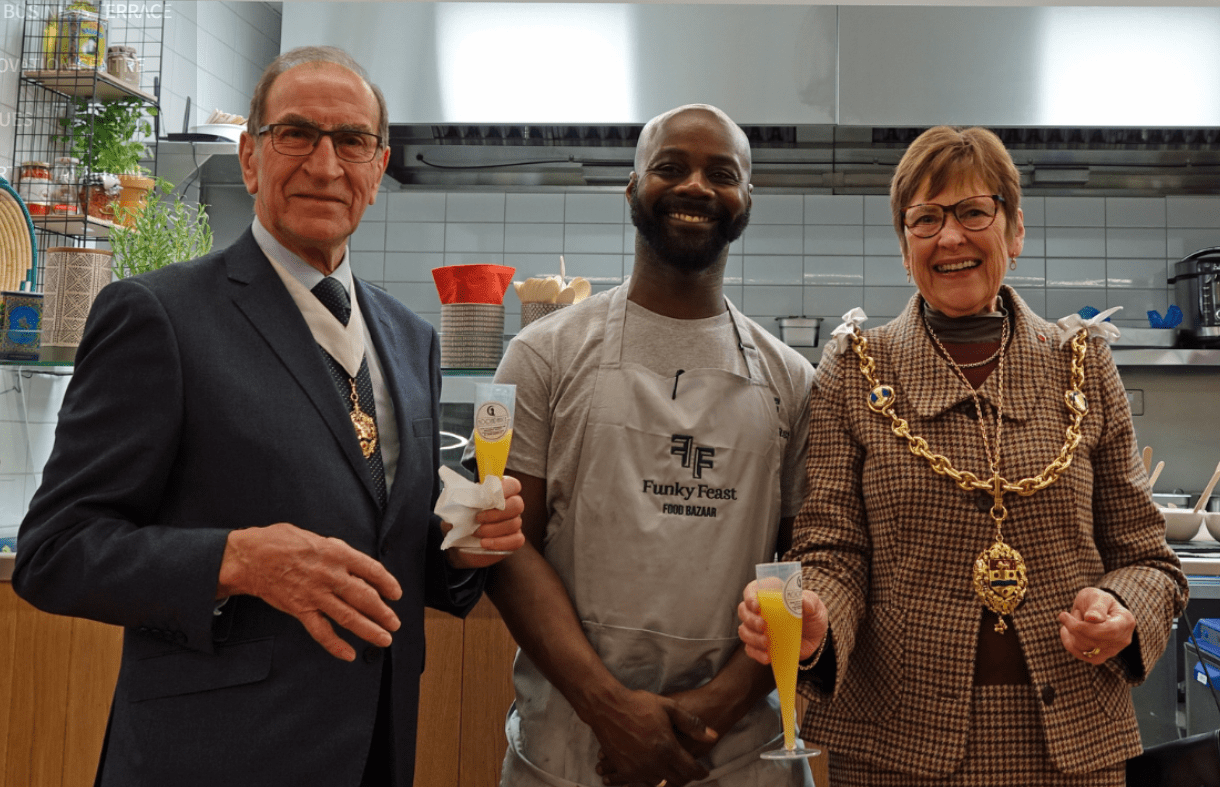 "We really felt there must be people like us in Maidstone, with kids too, who would love somewhere on their doorstep that served something completely different."
Raised in France, classically-trained chef, Eric Allangba's 20-year career has focused on fine-dining experiences, working in high-end establishments, Michelin-starred restaurants and supper clubs in Lyon and London. Using his expertise and an experimental approach, Eric creates unique culinary fusions combining multi-cultural influences.
When lockdown saw Eric put on furlough, he decided to start a private chef business, creating beautifully-prepared, restaurant-quality, tailored dishes for clients in their own homes.  Eric relished the opportunity to be creative, as he says.
"I live and breathe food and think about it constantly. I love being challenged to create something completely different that exactly fits a client's needs but is unlike anything they've tried before."
The service quickly grew in popularity but it was an article in the Business in Maidstone newsletter that prompted Eric's wife Paula to suggest they could go a step further and set up a permanent location showcasing his talent together.
The newsletter piece was a call from Maidstone Borough Council (MBC) for local, quality food providers interested in taking on units at its new food hall in Lockmeadow. Having moved with Eric and their two children to Maidstone from London in 2016, accountant Paula saw the opportunity to bring an unusual, eclectic food offering to the borough, as she explains,
"In London, I was used to having lots of options nearby for a healthy, delicious work lunch. But when we moved to Maidstone, I felt there was a gap in the market for something a bit more eclectic and diverse. Lockmeadow seemed like the perfect way to use Eric's skills to serve the food we both love and bring something new to the area. And as it was going to be council-run and didn't require any capital, it was a low-risk venture so I talked to Eric and we decided to go for it."
The couple worked together to produce an application for MBC, with Eric creating the menu and Paula drafting the proposal. They were thrilled – and surprised – to be offered a unit.
"I'm used to preparing presentations and working on numbers for existing businesses but this was completely new to me," Paula explains, "We were so grateful to be given a chance."
The result is Funky Feast – a fresh authentic fusion of Middle-Eastern and Mediterranean food served in a fast, casual style. With a frequently changing menu, the aim is to encourage diners of all ages to be adventurous and have the opportunity to try something different each time they visit.
The food, Eric says, is "…generally healthy and full of spices – not necessarily 'heat' but plenty of flavour. Customers can pick different elements to create their own meal. Recent menus have included dishes such as Cajun salmon, wild rice, fennel and mango slaw, and chilli and kiwi salsa, for example.  I love to create plates of food where every bite is surprising."
As well as providing a great location for meeting friends and family, or business lunches, Funky Feast will also encompass Eric's private chef service and a bespoke, regular delivery service for clients looking for a weekly health-conscious meal plan.
While Eric is chef/patron and the 'face' of Funky Feast, Paula works hard behind the scenes on the running of the business alongside her day job. As new business owners, the couple admits it hasn't always been easy. As Paula says, "Planning is key but be prepared for a stressful ride. If it succeeds, it's an amazing feeling. Like in Eric's case, when it's something you love doing, getting great feedback is the best reward."  
Despite the challenges, the support from MBC and their fellow tenants has been invaluable. Property Manager, Alexa Kersting-Woods has been in constant contact, says the couple, and is always responsive.
"We definitely feel that MBC is on our side," says Paula, "Any problems with the licensing, Alexa was on it straight away. We were also keen to try to avoid taking out loans and Alexa put us in touch with the Maidstone Business Boost team who have helped provide information on grant schemes. The other tenants are lovely too – everyone wants everyone else to succeed."
Looking ahead to the future, Eric and Paula have high hopes. "We really want to put Maidstone on the map in terms of the quality of food we're offering," Eric says, "Our aim is to make Lockmeadow somewhere people will come to for great food, entertainment and just a good time."