Green Gate – how one Maidstone business is enjoying solar success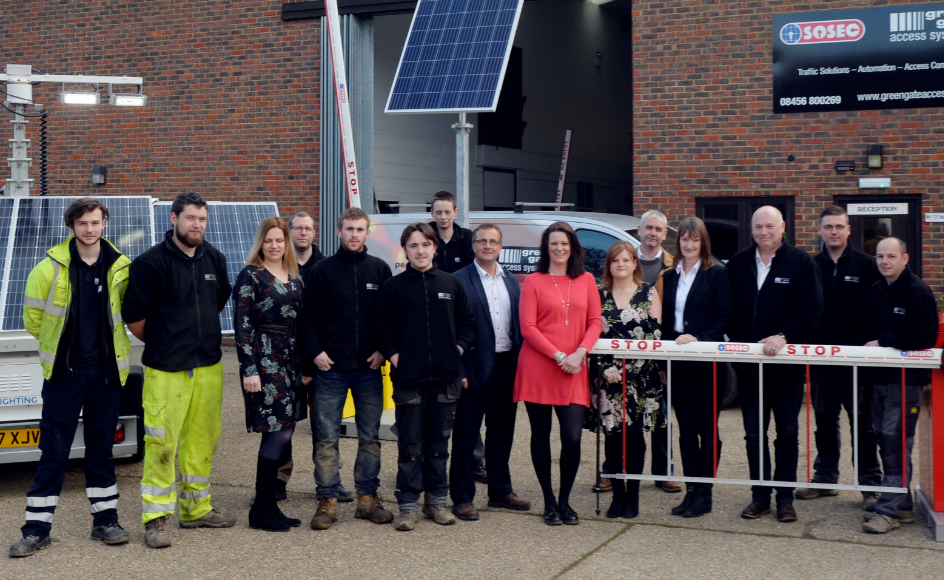 "Maidstone is transforming; what with the development of major commercial parks, housing and the Smart motorway project, we are excited to be part of this borough and see what the future holds."
Solar Gates UK Ltd, trading as Green Gate, is one of the UK's major suppliers and installers of automated security gate and barrier systems. Established by Managing Director Neil Sampson in 2006, the company has always been based in the county town of Kent.
Its pioneering products use solar technology to deliver comprehensive security systems for domestic and commercial clients. Following a fire which devastated the firm's head office in June 2016, Green Gate turned to Maidstone Borough Council for support and to help source a new office – and benefitted from some very helpful business advice along the way, too!  
Originally located on the Integra Business Park, Green Gate was forced to move when a fire at a neighboring business spread and caused damage to their head office. With clients across England, Scotland and Wales, including Leeds Castle, Kent Wildlife Trust, Taylor Wimpey and Saatchi & Saatchi, it was imperative that 'business as usual' resumed quickly. Maidstone Borough Council was on hand to offer support to Green Gate and enable them to source new premises and the mentoring support required to get through the challenges ahead.  
Sales Engineer Mig Howard, explains: "Obviously, a fire is not an everyday occurrence so we turned to Maidstone Borough Council for advice on what to do next. The team helped us find a new suitable location for our growing business in nearby Boughton Monchelsea which helped us to resume normal service as quickly as possible."  
Following the move to its new Heath Road headquarters in Boughton Monchelsea in 2017, the company has gone from strength-to-strength, enjoying a 50% increase in turnover with year-on-year projections also at 50% to 2020 at least.  
Through its experience and knowledge of the market, Green Gate has developed and patented its own range of solar powered products exclusive to the company. Developed in conjunction with construction giant Kier Living, the 'SoSec' range includes solar energised barriers, gates and turnstiles and is fast-becoming one of the firm's most popular ranges as businesses and households seek to improve their efficiency and cut energy bills.  
Mig continued: "The support from Maidstone Borough Council has been invaluable. Not only did we have assistance with the move, but the team also made us aware of funding initiatives which they encouraged us to apply for."  
One of these funding schemes was located in Kent's 'South East Business Boost' which is delivered through its Kent and Medway Growth Hub. Presenting SoSec as the product range it would like to grow, Green Gate secured a loan of £100,000 through this scheme. The additional funding allowed the business to grow its stockholding and expand its rental fleet. It also enabled the purchase of much-needed delivery vehicles.  
Maidstone Borough Council also encouraged Green Gate to enter trade and local business awards to showcase the company's service and products. Between 2016 and 2018, the company was awarded with several high-profile accolades, including:  
2016 – Builders and Engineering Awards (for the SoSec product) 

 

2017 – Maidstone Business Award – two categories (Innovation and Entrepreneur of the Year) 

 

2017 – Kent Invicta Chamber of Commerce – Entrepreneur of the Year 

 

2018 – British Safety Federation – Safety Excellence Winner
The company is going from strength-to-strength, and 2018 saw Green Gate reach its turnover target of £1.15 million. Their first ever seven figure year, a remarkable achievement.  
Mig Howard concluded: "I would encourage any business looking to relocate to come to Maidstone. This town has fantastic opportunities on the horizon, with commercial and housing developments taking place. It really is a place where businesses and the Council work together to help each other grow and prosper.  
"Our headquarters at Boughton Monchelsea give us the flexibility to expand, and are increasing staff – from admin and sales through to manufacturing. We also plan to occupy another site in Maidstone for storage and manufacturing facilities.