Monthly Maidstone Spotlight – Craft Brewed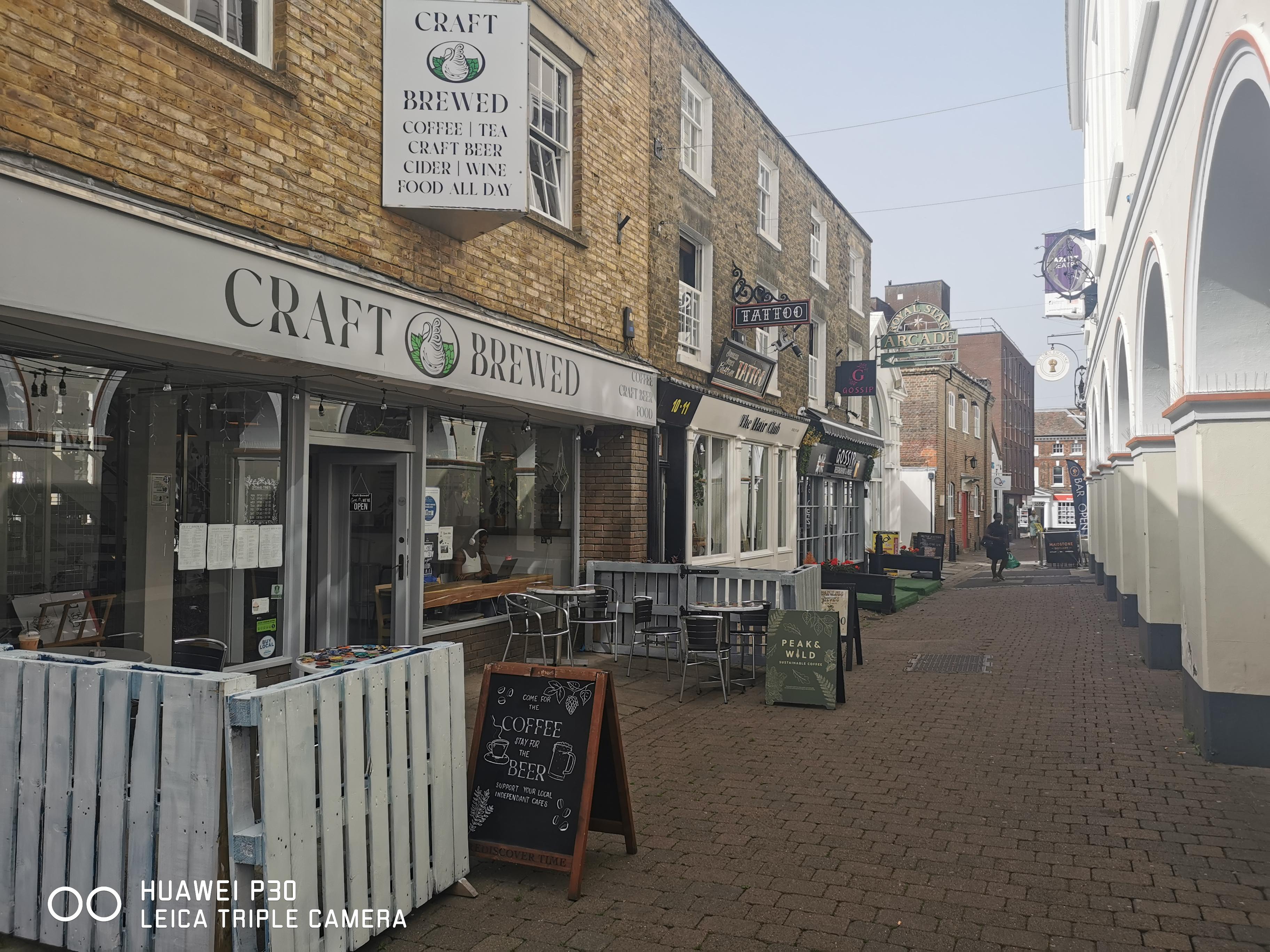 For our first Q&A we spoke with Ajay Davis of Craft Brewed. The latest addition to the Market Buildings in the town centre.
How long have you been running Craft Brewed and what inspired you to start your own business? 
We have been open since August 2022, and the inspiration behind Craft Brewed was to offer something that I feel hasn't been done before in Maidstone, after 6pm all the coffee shops are shut so the only place to get a coffee would be a pub , but not everyone is comfortable going into a bar or pub, and they aren't always the best coffee's.
During lockdown I started a subscription to a monthly box of craft beer and loved the fact that I had different beers to try from all over the world and thought this sort of thing could work really well alongside coffee, as a business.
You have great premises, and each floor has something to offer, what led you to Market Buildings in Maidstone?
When I was looking around Maidstone to find the perfect venue I had a choice of Bank Street, Gabriel's Hill, King Street, High Street and Market Buildings,
Each of these streets had something to offer but Market Buildings had something very different. Market Buildings which is right behind Royal Star Arcade has many businesses and each one is an Independent business.
The premises is also very unique, its split over three floors, the ground floor being the main bar area with access to the rear courtyard, the first floor which is a mezzanine floor with our comfy sofas for a relaxed coffee and a catch up with friends. Our top floor with tables and chairs and all the electrical sockets you need to do some work away from the office . 
Independent cafes are growing in popularity, in our town centre, what would you say is your USP?
There are so many nice cafes in Maidstone, our USP would have to be on the coffee side – we are open from 7.30 am till either 10pm Monday to Thursday, midnight on a Friday and Saturday and 9pm on a Sunday, so any time you want a coffee we are here, no matter what time of day or night, we have created a safe chilled space for anyone to enjoy.
Without mentioning any names – who has been your most interesting customer and why ?
Our customers are fantastic, we wouldn't have been able to make it through the first year without them, but our most interesting customers would have to be the four-legged friends that come in with our customers. Herclue a sausage dog, he loves is cuddles and treats. Ollie a Husky Terrier has been coming here from a puppy, so we have watched him grow. Hector the Dachshund loves to sit by the window with his owner and watch the world go by. My Cat Tommen is known on social media, but I haven't brought him in yet.
What's been your biggest challenger and learning so far?
I think the biggest challenge so far would have to be getting more people to know where Market Buildings is in town, Everyone knows about the Hazlett Theatre and Frederic Bistro but very few people know the name of the Street which joins Earl Street and the High Street. Market Buildings has so much to offer, and I just wish more people knew about it.
Christmas and the New Year are but a few months away now – can you share any plans that you have for 2024 with us? 
I won't mention too much as I like to leave a little to be a surprise, but next year we are planning a few more live music events, as well as an evening menu, "meet the brewer" nights and some more monthly nights to go along side our monthly improv comedy night, board games nights and poetry nights.