Adding a dash of diversity to the Maidstone food scene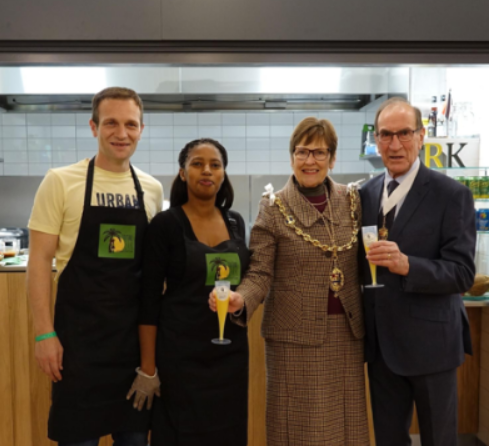 "We love where we live and we want to bring something different to our community that changes the perceived culture of Maidstone and supports inclusivity."
Although never having worked full-time in the food industry, husband and wife, Michelle and Ben Ayling are experienced in the world of catering alongside their respective legal and engineering careers. Total Jerk was first established when friends of the couple who ran a small festival were let down by caterers and, knowing the pair to be accomplished cooks, asked them to step in.
"I have Trinidadian and Jamaican heritage and both Ben and I cook Caribbean dishes all the time as a hobby," explains Michelle.
"So when our friends asked us to help out, we thought we'd give it a go and set up Total Jerk. We started off at small farmers' markets and then catered at the festival, which went really well.  From there, we started contacting other festival organisers and it just grew from there."
Like so many, lockdown was the catalyst to make a lifestyle change or simply try something new, and that was no different for Michelle. Although busy working towards her legal masters and other work projects at the time, an ad in the Kent Messenger seeking vendors for a new food hall in Lockmeadow gave Michelle the idea to make more of her side-hustle.
"Following lockdown, I thought that the opportunity at Lockmeadow could be a great way to combine our love of food with a new commercial challenge," Michelle explains.
"There are very few Caribbean caterers in Maidstone so we thought, why not go for it?"
The pair were thrilled to be chosen as one of the vendors, helping to complete an eclectic mix of dining options at the venue. But as Michelle explains, it was a steep learning curve.
"We were very much stepping into a new world. When we started out doing the festivals, we had to find out about licensing, food hygiene, equipment," says Michelle, "And now we're at Lockmeadow, we're still learning all the time. Marketing and social media is something we're focusing on. And the challenge at the moment is understanding how the unusual economic climate is affecting the market and cyclical income. But we're really enjoying being here."
Offering a vibrant menu including curried goat, jerk wraps and burritos, BBQ chicken, curries and the hugely popular Trini doubles – a traditional Trinidadian streetfood – as well as vegetarian, halal and gluten-free options, Total Jerk is attracting a broad mix of clientele.
"We have a diverse mix of customers which we are very proud of, as it shows that our food transcends many cultures," Michelle explains.
"We mostly have customers who just love food and want to try something different.
"And we have a lot of Trinidadian grandmothers coming to tell us about their favourite recipes, which is lovely. In fact, I've met more Caribbean people while working here than I have in my whole 22 years living in Maidstone!"
Keen to entice people to try something new, Total Jerk is also available for delivery and is expanding into meal plans to fit a range of different needs from everyday dining, to the health-conscious and gym-users.
"Mostly, we just want to create a community of people who love their food," Michelle says.
As well as supportive customers, the duo has welcomed the help and advice from Maidstone Borough Council.
"We found Chris Lyle, the business adviser, and the rest of the Maidstone Business Boost team so helpful," says Michelle.
"We received a grant from MBC for taking on the premises and as a result, we were able to absorb some of our set up costs for the unit which would otherwise have been very challenging following the pandemic.
"They've also directed us to other support programmes. We took part in a free WSX digital workshop and I'm currently applying for the Adapt to Digital funding. We're hoping to utilise this to develop our website and marketing. I found the process very straightforward and the advisers were very helpful and informative. We're planning to put some of their advice into practice and use the skills and tools provided by the course to help grow Total Jerk even further and enhance our customer experience."
And what of Lockmeadow itself – what do Michelle and Ben make of their new premises?
"We've made lots of good friends with the tenants," says Michelle, "And Alexa, the manager, is super friendly. She's always visiting and it's her we go to if we have any problems. It's great to have access to Jodi, on the marketing team too.
"It's also lovely to have such a family-friendly environment. Our children are often here and it's a lovely place for people to bring their children, where there's something different for everyone to eat and feel safe."
As new business-owners, what advice would they share with other would-be start-ups?
"Definitely talk to other businesses and peers," Michelle suggests. "Seek proper business advice too to find out what funding might be out there."
"If you're taking on premises, don't be afraid to speak to your landlord to see if there might be any rent-free periods when you're just starting out. And ask about things like maintenance and equipment – we were lucky that our units were equipped with fully fitted kitchens and we just had to provide utensils but that won't be the case everywhere."
Six months down the line and having learnt so much already, what does the future hold for Total Jerk?
"There's still so much more we want to do," says Michelle. "As well as the meal plans and deliveries, we want to expand our vegetarian dishes and focus on offering more weekly specials to entice customers to try something different. We've got a great product and we know we can really grow it.
"Overall, we want to represent amazing Caribbean food. We've had good reviews and I'd say we do great food – but I want to be the best."